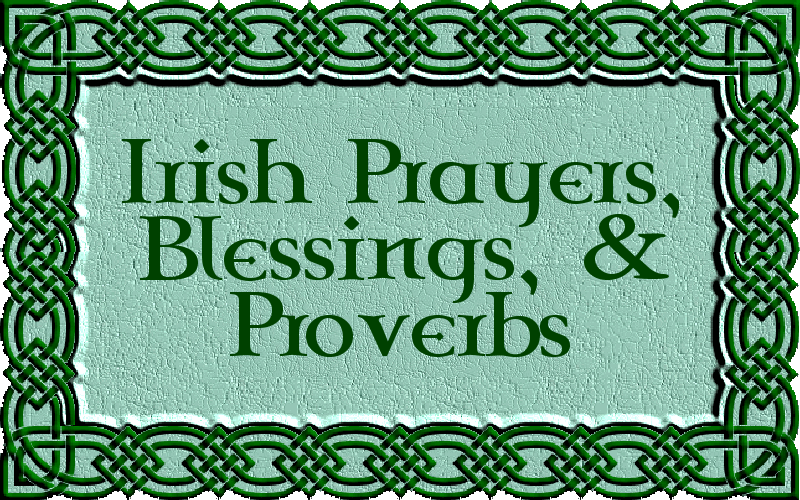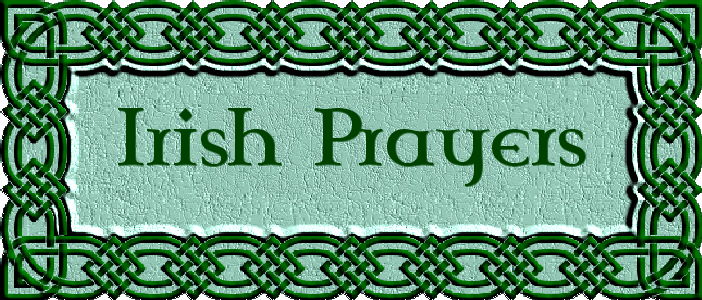 An Old Gaelic Prayer

Grant me a sense of humor, Lord,
the saving grace to see a joke,
To win some happiness from life,
And pass it on to other folks.

Traditional Irish Prayer Against Evil

Three things are of the evil one:
An evil eye;
An evil tongue;
An evil mind.

Three things are of God,
and these three are what Mary told her Son,
for she heard them in heaven:
The merciful word,
The singing word,
And the good word.

May the power of these three holy things
be on all men and women of Erin for evermore.

The Celtic Christians had a practice called the 'caim',
in which they drew around them a circle....
this was a symbol of the encircling love of God.
A Caim Prayer
The Mighty Three
My protection be
Encircling me
You are around
My life, my home
Encircling me
O Sacred Three
The Mighty Three

Lorica
The early Celtic church had many 'breastplate prayers', or 'lorica',
which declared the surrounding and encompassing of God.
Such prayers were not to make God come - He is already there -
but to open our eyes to the reality. In breastplate prayers,
the person who prays seeks to become aware of what is already a reality.
The following prayer is from the 4th century and is attributed to St. Patrick
I bind myself today
The power of God to hold and lead
His eye to watch, His might to stay
His ear to hearken to my need
The wisdom of my God to teach
His hand to guide
His shield to ward
The word of God to give me speech
His Heavenly Host to be my guard.

Bless This House

Bless this house, O Lord, we pray.
Make it safe by night and day.
Bless these walls so firm and stout,
Keeping want and trouble out.
Bless the roof and chimney tall,
Let thy peace lie over all.
Bless the doors that they may prove
Ever open to joy and love.
Bless the windows shining bright,
Letting in God's heavenly light.
Bless the hearth a-blazing there,
With smoke ascending like a prayer.
Bless the people here within...
Keep them pure and free from sin.
Bless us all, that one day, we
May be fit, O lord, to dwell with Thee.

God bless the corners of this house,
And be the lintel blest,
And bless the hearth and bless the board,
And bless each place of rest,
And bless each door that opens wide
To stranger as to kin,
And bless each crystal window pane
That lets the starlight in,
And bless the rooftree overhead
And every sturdy wall.
The peace of man, the peace of God,
The peace of love on all.

From Saint Patrick's Breastplate

Christ be with me
Christ before me
Christ behind me
Christ in me
Christ beneath me
Christ above me
Christ on my right
Christ on my left
Christ where I lie
Christ where I sit
Christ where I arise
Christ in the heart of every man
who thinks of me
Christ in the mouth of every man
who speaks of me
Christ in every eye that sees me
Christ in every ear that hears me
Salvation is of the Lord.
Said in the morning when rising...
Christ be with me,
be after me,
be before me,
and be at my right and left hand.
May everything I do be for Christ.

Said when dressing...
Lord, clothe me with the robes of innocence.

Said during thunder and lightning...
O Lord, be between us and harm and
protect us from the harm of the world.

Bless those minding cattle,
And those minding sheep,
And those fishing the sea
While the rest of us sleep.

Get on your knees
And . . .
Thank God you're on your feet.

Dear Lord,
Give me a few friends
who will love me for what I am,
and keep ever burning
before my vagrant steps
the kindly light of hope...
And though I come not within sight
of the castle of my dreams,
teach me to be thankful for life,
and for time's olden memories
that are good and sweet.
And may the evening's twilight
find me gentle still.

God our Father,
you sent Saint Patrick
to preach your glory to the people of Ireland.
By the help of his prayers,
may all Christians proclaim your love to all men.
Grant this through our Lord Jesus Christ, your Son,
who lives and reigns with you and the Holy Spirit,
one God, for ever and ever.

I Believe in the sun . . .
When it is not shining.
I believe in love . . .
Even when I feel it not.
I believe in God . . .
Even when he is silent.

Traditional Irish Prayers of Grace at Meals
Like the goodness of the five loaves and two fishes,
Which God divided among the five thousand men,
May the blessing of the King who so divided
Be upon our share of this common meal.
Bless, O Lord, this food we are about to eat;
and we pray You, O God,
that it may be good for our body and soul;
and if there be any poor creature hungry
or thirsty walking along the road,
send them into us that we can share
the food with them,
just as You share your gifts with all of us.
May this food restore our strength,
giving new energy to tired limbs,
now thoughts to weary minds.
May this drink restore our souls,
giving new vision to dry spirits,
new warmth to cold hearts.
And once refreshed,
may we give new pleasure to You,
who gives us all.
Grace before Meals

Beannaigh sinn, a Thiarna,
agus na bhranntanis seo uait,
a bhfuilimid le glacadh
ó do rath, trí Chríost ár dTiarna. Amen.

Bless us, O Lord,
and these thy gifts
which we are about to receive
from thy bounty through Christ our Lord. Amen
An Old Irish Grace

Beannaigh sinne, a Dhia.
Beannaigh ár mbia agus ár ndeoch.
ós tú a cheannaigh sinn go daor
Agus a shaor sinn ó olc,
Mar a thug tú an chuid seo dúinn
Go dtuga tú dúinn ár gcuid den ghlóir shíoraí.

Bless us, O God.
Bless our food & our drink.
Since you redeemed us so dearly
and delivered us from evil,
as you gave us a share in this food
so may you give us a share in eternal life.

Give us, Lord, a bit o sun
A bit o work and a bit o fun
Give us in all the struggle and sputter
Our daily bread and a bit o butter
Give us health our keep to make
And a bit to spare for other's sake
Give us, too, a bit of song
And a tale and a book to help us along
Give us, Lord, a chance to be
Our goodly best, brave, wise and free------
Our goodly best for ourselves and others
Till all men learn to live as brothers.

Ag Críost an Síol
To Christ the Seed


Ag Críost an síol, ag Críost an fómhar;
in iothlainn Dé go dtugtar sinn.
Ag Críost an mhuir, ag Críost an t-iasc;
líonta Dé go gcastar sinn.

Ó fhás go haois, ó aois go bás,
do dhá láimh, a Chríost, anall tharainn.

Ó bhás go críoch nach críoch ach athfhás,
i bParthas na ngrás go rabhaimid.

To Christ the seed, to Christ the crop,
in barn of Christ may we be brought.
To Christ the sea, to Christ the fish,
in nets of Christ may we be caught.

From growth to age, from age to death,
Thy two arms here, O Christ, about us.

From death to end, not end but growth,
in blessed Paradise may we be.

An Bheannacht
The Blessing

In ainm an Athar
agus an Mhic
agus an Spioraid Naoimh. Amen.

In the name of the Father
and of the Son
and of the Holy Spirit. Amen.

ár nAthair
Our Father

Ár nAthair atá ar neamh,
go naofar d'ainm
Go dtaga do ríocht
Go ndéantar do thoil
ar an talamh mar a dhéantar ar neamh.
ár n-arán laethúil tabhair dúinn inniu
Agus maith dúinn ár bhfiacha
Mar a mhaithimidne dár bhféichiúnaithe féin
Agus ná lig sinn i gcathú
ach saor sinn ó olc.
óir is leatsa an ríocht
agus an chumhacht agus an ghlóir
Trí shaol na saol. Amen.

Our Father who art in heaven,
may thy name be hallowed
May thy kingdom come
May thy will be done
on the earth as it is done in heaven.
Our daily bread give to us today
and forgive us our debts
As we forgive our own debtors
And lead us us not into temptation
but deliver us from evil.
For yours is the kingdom
and the power and the glory
For ever and ever. Amen.

Glóir don Athair
Glory be to the Father

Glóir don Athair agus don Mhac
agus don Spiorad Naomh;
Mar a bhí ar dtús, mar atá anois agus
mar a bheas go brách, le saol na saol. Amen.

Glory to the Father and to the Son
and to the Holy Spirit;
as it was in the beginning, as it is now, and
as it will be for ever, for the life of the world.

Cré na n-Aspal
The Apostles Creed

Creidim i nDia, an tAthair uilechumhachtach,
Cruthaitheoir neimhe agus talún;
agus in Íosa Críost, a aon Mhacsan,ár Tiarna,
a ghabhadh ón Spiorad Naomh,
a rugadh ó Mhuire Ógh;
a d'fhulaing páis faoi Phointius Píoláit,
a céasadh ar chrois, a fuair bás agus a adhlacadh;
a chuaigh síos go hIfreann,
a d'éirigh an treas lá ó mhairbh;
a chuaigh suas ar neamh;
atá ina shuí ar dheis Dé,
An tAthair uilechumhachtach;
As sin tiocfaidh sé chun
Breithiúnas a thabhairt Ar bheo agus ar mhairbh.
Creidim sa Spiorad Naomh,
Sa Naomh-Eaglais chaitliceach,
I gcomaoin na naomh;
I maithiúnas na bpeacaí
In aiséirí na colainne,
Agus sa bheatha shíoraí. Amen

I believe in God, the Father almighty
creator of heaven and earth
and in Jesus Christ, his only son, our Lord
who was conceived by the Holy Spirit
who was born of the Virgin Mary
who suffered under Pontius Pilate
who was crucified, died, and was buried.
He descended into hell.
On the third day he rose again from the dead
He ascended into heaven
sitteth at the right hand of God
the Father almighty
From whence he shall come
to judge the living and the dead
I believe in the Holy Spirit,
the Holy catholic Church,
in the communion of saints
in the forgiveness of sins;
in the resurrection of the body
and life everlasting. Amen.

Ar Fheiceáil na Gréine
At The Sighting of The Sun

A Dhia a chruthaigh an ghrian, is tú grian
m'anam agus is geal liom do shoilseacht.
Gráim thú, a Sholais shíoraí. Tabhair dom
radharc ort i soilseacht do ghlóire.

Soilse na gréine linn inniu.

A Rí na gile is na gréine,
agat féin atá fios ár bhfeidhme,
bí linn gach lá,
bí linn gach oíche,
bí linn gach oíche is lá,
bí linn gach lá is oíche.

God who created the sun, You are the sun
of my soul and Your brightness makes me glad.
I love You, o Eternal Light. Give to me
sight on you in the illumination of your glory.

The light of the sun with us today.

O King of the brightness and of the sun,
you alone know the reason for our being,
be with us every day,
be with us every night,
be with us every night and day,
be with us every day and night.

Do Chríost
To Christ

A Íosa, a Íosa, coimeád na caoire
ar na gleannta míne agus ar na móinéir chaoine.
Ní tinneas chun báis ach tinneas chun sláinte
a bheith tinn le grá dhuit, a Rí na páirte.

Molaimid Íosa Críost,
molaimid é 'na shaoire.
Agus de ghnáth, a Thiarna trócaire,
is go rabhaimid ag moladh do ghlóire
insa tsíoraíocht dhéanach.


Jesus, Jesus, guard Thy sheep
in gentle valleys, meadows mild.
Not sick to death but sick to life
sick with Thy love, O cherished King.

We praise Jesus Christ,
we praise him in his feastday.
And always, O Lord of mercy,
may we be praising your glory
for all eternity.


Irish Funeral Prayer


BEANNACHT AR NA MAIRBH

Suaimhneas síoraí tabhair dó (dí),
a Thiarna, agus go lonraí solas suthain air (uirthi).
Tabhair maithiúnas dár ndeartháir (ndeirfiúr)
agus tabhair ionad sosa faoi shíocháin dó (di).


SIGN OF THE CROSS

Eternal rest grant unto him (her),
Oh Lord, and perpetual light shine upon him (her).
Grant forgiveness to our brother (sister)
and grant him (her) a peaceful resting place
(may he/she rest in peace).