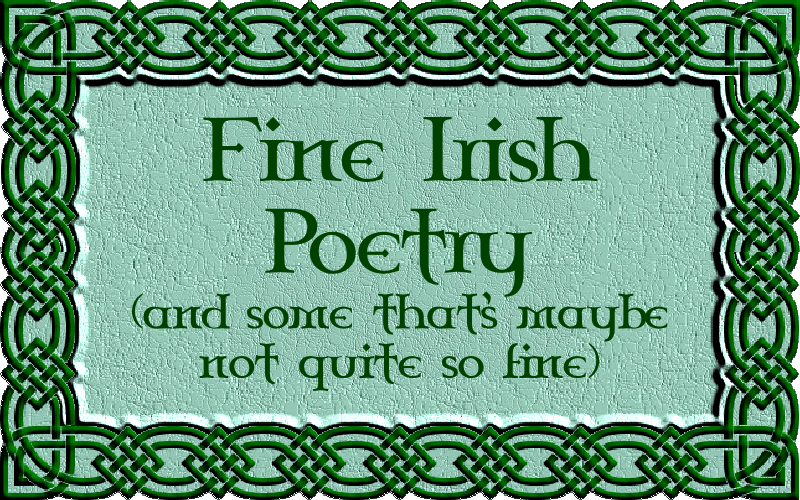 The Little Pub Mouse
Some Guinness was spilt on the barroom floor
When the pub was shut up for the night.
Out of his hole crept a wee brown mouse
And knelt in the pale moonlight.

He lapped up the frothy brew from the floor
And back on his haunches he sat.
All night long you could hear him roar,
"Bring on that gol-durned cat!"

The Shamrock
There's a dear little plant that grows in our isle
'Twas Saint Patrick himself sure that set it
And the sun on his labor with pleasure did smile
And a tear from his eyes oft-times wet it
It grows through the bog, through the brake, through the mireland
And they call it the dear little Shamrock of Ireland

O, the red rose may be fair,
And the lily statelier;
But my shamrock, one in three
Takes the very heart of me!
Katharine Tynan

The Leprechaun
Near a misty stream in Ireland in the hollow of a tree
Live mystical, magical leprechauns who are clever as can be
With their pointed ears, and turned up toes and little coats of green
The leprechauns busily make their shoes and try hard not to be seen.
Only those who really believe have seen these little elves
And if we are all believers
We can surely see for ourselves.

Ireland
It's the one place on earth
That Heaven has kissed
With melody, mirth
And meadow and mist.

From the great Gaele of Ireland
Are the men that God made mad,
for all their wars are merry
And all their songs are sad.
G. K. Chesterton

Whenever I dream
Whenever I dream, It seems I dream
Of Erin's rolling hills-
Of all its lovely, shimmery lakes
And little babbling rills-
I hear a colleen's lilting laugh
Across a meadow fair
And in my dreams its almost seems
To me that I am there-
O, Ireland! O', Ireland!
We're Never far apart
For you and all your beauty
Fill my mind and touch my heart.

A Little Bit of Heaven
Have you ever heard the story of how
Ireland got it's name?
I'll tell you, so you'll understand from
Whence old Ireland came.
No wonder that we're proud of that
Deal land across the sea,
For here's the way me dear old mother
Told the tale to me.
Sure, a little bit of heaven fell from
Out the sky one day,
And nestled on the ocean in a
Spot so far away;
And when the Angels found it,
Sure it looked so sweet and fair,
They said, "Suppose we leave it,
For it looks so peaceful there."
So they sprinkled it with star dust
To make the shamrocks grow;
'Tis the only place you'll find them
No matter where you go;
Then they dotted it with silver
To make its lakes so grand,
And when they had it finished,
Sure they called it Ireland.
'Tis a dear old land of faeries
And of wond'rous wishing wells'
And nowhere else on God's green earth
Have they such lakes and dells!
No wonder that the Angels loved its
Shamrock-bordered shore.
'Tis a little bit of heaven
And I love it more and more.

You've Blessed Me
You've blessed me with friends
and laughter and fun
With rain that's as soft
as the light from the sun-
You've blessed me with the stars
to brighten each night
You've give me help
to know wrong from right
You've give me so much
please, Lord give me too
A heart that is always
Grateful to you.

Mother

There is but one and only one,
Whose love will fail you never.
One who lives from sun to sun,
With contant fond endeavor.
The is but one and only one,
On earth there is no other.
In Heaven a noble work was done,
When God gave man a Mother.

O, Ireland isn't it grand you look-
Like a bride in her rich adornin'
And with all the pent-up love of my heart
I bid you the top o' the mornin'.
John Locke

It is Easy to Be Pleasant
It is easy to be pleasant
When life flows by like a song.
But the man worth while is the one who will smile,
When everything goes dead wrong.
For the rest of the heart is trouble,
And it always comes with years.
And the smile that is worth the praises of earth,
Is the smile that shines through tears.

How sweetly lies old Ireland
Emerald green beyond the foam,
Awakening sweet memories
Calling the heart back home

The Harp that once through Tara's hills
The soul of music shed,
Now hangs as mute on Tara's walls
As if that soul were fled
So sleep the pride of former days,
So Glory's thrill is o'er-
And the hearts that once
Beat high for praise
Now feel that pulse no more.
Thomas Moore

Hills as green as emeralds
Cover the countryside
Lakes as blue as sapphires-
And Ireland's special pride
And rivers that shine like silver
Make Ireland look so fair-
But the friendliness of her people
Is the richest treasure there.

Remember
Always remember to forget
The things that made you sad
But never forget to remember
The things that made you glad.
Always remember to forget,
The friends that proved untrue.
But never forget to remember
Those who have stuck by you.
Always remember to forget
The troubles that passed away.
But never forget to remember
The blessings that come each day.

Erin
Where the wind has a sound like a sweet song,
And anyone can hum it,
And the heather grows upon the hills
And shamrocks not far from it.

The rose and the shamrock
Will always remind me
Of lanes in the hills
That I left far behind me.
E. Gary Brooks

Take me home to Shamrock Hill
The glorious place of my birth
Where the glens are green and the heather grows-
'Tis the prettiest place on earth-
The wind blows free and the air is fresh
And I still hear a rippling rill.
My heart is sad, but it could be glad-
Take me home to Shamrock Hill.
E. Gary Brooks

When I Come to Ireland
Michael L Dellger
When I come to Ireland,
Mayo will whisper
from her piled stone fences
through her blowin' trees
that I have too long tarried
and which farm's for buyin'.
I will find St. Martin's dream
down dirt road tracks
a mile outside Westport.
I will hear uplands airy
carry fiddle tunes to taverns,
heart-tearing tributes
to the dead of '16.
When I come to Ireland,
I will learn to dive-
deep
as gray geese
from green-moss cliffs
into the blue-eyed water
of a woman
whose hair burns my fingers
and soft Gaelic tongue
calls me Gallagher again.

The Legacy of the Irish
Its that time of year again when Irish round the globe
Celebrate their heritage which they in turn bestow
To each passing generation, a happy heart to hold
And a warm endearing smile to tell tales yet untold
Of brave and daring warriors and kind and gentle folk
Who spread across the earth and helped relieve the heavy yoke
Of tyranny and misery and all of hell's unholy lot
So that freedom and security could be had by those who sought
The fruits of their labor and the bounty of their land
That the Irish helped to settle and the rest to understand
That it's a spirit that unite the celtic tribes of old
And nothing can destroy it except a memory grown cold
So each March seventeenth we remind ourselves and those
That the Irish be not forgotten nor their deeds remain reposed
So sing a song and give a cheer when St Pat's Day comes at last
But remember it's the future that is father to the past
by Pat Gallinagh

The Time I've Lost in Wooing
The time I've lost in wooing
In watching and pursuing
The light that lies
In woman's eyes,
Has been my hearts undoing.
Though wisdom oft has sought me
I scorned the love she brought me
My only books
Were woman's looks,
And folly's all they've brought me.
Her smile when Beauty granted,
I hung with gaze enchanted,
Like him the Sprite
Whom maids by night
Oft meet in glen that's haunted.
Like him, too, Beauty won me;
But when the spell was on me,
If once their ray
Was turn'd away,
O! winds could not outrun me.
And are those follies going?
And is my proud heart growing
Too cold or wise
For brilliant eyes
Again to set it glowing?
No -- vain, alas! th' endeavor
From bonds so sweet to sever
Poor Wisdom's chance
Against a glance
Is now as weak as ever.
Thomas Moore (1779-1852)