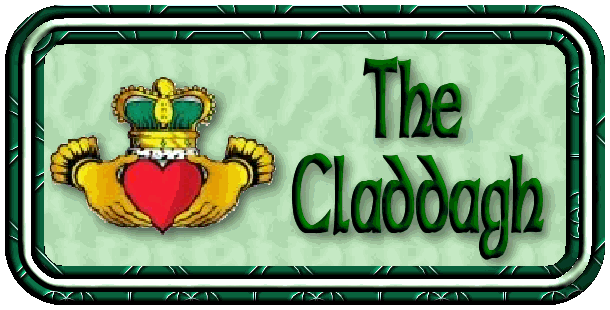 Claddagh History and Lore

As with most things in Ireland, Claddagh history combines Irish folklore, legends, and many truths into a picture that is sometimes murky, often mystifying, yet always fascinating . . .
The Claddagh ring is the traditional Irish wedding ring. Claddagh symbolism is timeless . . . signifying love, fidelity, and friendship. The Claddagh is worn by Irish people the world over as a source of pride in their heritage. It's motto is a beautiful description of the essence of the Irish spirit . . .
"Let Love and Friendship Reign!"

Ancient origins with an Irish twist

Claddagh history begins with a group of rings called, "Fede rings", meaning, "faith rings". Dating back to Roman times, faith rings are distinguished by two hands representing trust and faith. However, the Claddagh ring is a unique version of this design in which the two hands are holding a heart topped by a crown.
The traditional Irish wedding ring since the 17th century, the Claddagh ring is one of the most familiar symbols of Irish heritage. This intricately crafted tribute to friendship, loyalty and everlasting love is one of the most enduring emblems of all that love can be.

As well, the way the Claddagh ring is worn tells the world how love stands in the heart of the ring bearer.
• Worn on the right hand with the heart facing out, the Claddagh ring says that the ring bearer's heart is not yet won.
• Worn on the right hand with the heart facing in, it tells the world that the ring bearer is under love's spell and the two lovers have become engaged.
• Worn on the left hand with the heart facing in, it shows the world that the ring bearer's love has finally found a home in marriage.


The Great Storytellers

In the best tradition of Irish folklore, Claddagh history is not merely a collection of facts. Rather, Claddagh history consists of a collection of several different legends.

The Eagle and Margaret Joyce

One legend in Claddagh history tells of Margaret Joyce, who married a wealthy Spanish merchant named Domingo de Rona. When her husband died, Margaret inherited de Rona's fortune. Unlike most people, who would fritter away new riches, Joyce instead put them to good work in building bridges and performing many charitable works in Ireland's western counties. To reward her for her extraordinary kindness and generosity, an eagle dropped the original Claddagh Ring into her lap.

Gods and Goddesses

Going back further, some believe Claddagh history began with the ancient Celts. The mythical Beathauile is said to represent the Crown. Dagda, father of the Celtic gods, represents the right hand of the Claddagh Ring. Anu, ancestral and universal mother of the Celts, represents the left hand. In a Christian version of this Irish legend, the crowned heart represents God the Father and the two hands signify Jesus and the Holy Spirit.

The Fisher Kings

Claddagh history merges with tales of the sea in the town of Claddagh, which is said to be one of the oldest fishing villages in Ireland. For centuries, fishermen from the area took to sea with the Claddagh crest on their ships and sails. The crest was used for identification - fishermen from outside the area fishing in their waters were chased away or killed. So the Claddagh ring is also an original symbol of the "Fisher Kings" of the Galway town of Claddagh, Ireland.

Unrequited Love

Perhaps the most fantastic tale claiming to be part of Claddagh history involves a king who fell in love with a peasant girl. Because of class distinctions between the two, the king could not marry the girl he loved. His grief was too much for him to bear; and he killed himself. But his dying wish was for his hands to be chopped off and placed around his heart as a symbol of his undying love. How gruesomely charming!


Conventional Wisdom - The Real Truth?


The most common - and most believable - tale of Claddagh history begins with a young man from Galway by the name of Richard Joyce leaving his true love to make his fortune in the West Indies. As he sailed toward his goal, his ship was captured by a band of pirates and he was sold as a slave to a Moorish goldsmith.

Through the many years of service to the goldsmith, Richard perfected the art of jewelry making himself, eventually becoming a master craftsman and earning the respect and admiration of his master. When King William III negotiated the freedom of the slaves in 1689, the Moor offered Richard the hand of his daughter and a healthy dowry on top of that. But Richard refused . . . for his heart still lay in Ireland.

Returning to Galway, Richard found that his sweetheart had remained true to him through all those years. In a fitting tribute to his true love, he fashioned the Claddagh ring. The two hands represented their friendship. The crown signified their loyalty. The heart symbolized their love. Richard wedded his beloved and presented the first Claddagh to her as her wedding ring. And the two lived happily ever after . . . never to be apart again.

This legend of Claddagh history is not entirely without basis. Indeed, the earliest examples of Claddagh rings bear Richard Joyce's initials. So it makes sense that most scholars and everyday people believe the legend of Mr. Joyce to be the true origin of Claddagh history.


Enduring Legacy

A dark chapter in Claddagh history, but one in which the Irish eventually triumphed, was the Great Famine in the mid-19th century. As thousands fled their beloved land to escape starvation, the Claddagh ring was often the only thing of value they owned. Sometimes it was their only inheritance and the only reminder they could keep of the land they loved.

As the Irish settled throughout the United States and Canada, the Claddagh ring became a stunning testament to Erin and the proud heritage of her people all over the world. It became quite honorable to be a Claddagh ring bearer. In fact, it was the only ring Queen Victoria ever wore that was made in Ireland. Later Queen Alexandra and King Edward VII followed suit and became Claddagh ring bearer's themselves.

Throughout Claddagh history, the ring has been handed down from mother to daughter with the saying, "With these hands I give you my heart and I crown it with my love." There is no traditional age when the ring is supposed to be handed down. Each mother determines when her own daughter is ready for this special family heirloom.

Claddagh history spans the ages of the Emerald Isle. Like the Celtic harp, the Claddagh has become a symbol of the Irish spirit and links the hopes for the future with trials and tribulations of the past. As decades pass, it links the generations and brings them closer to each other.

Claddagh ring bearers can take pride knowing the journey that others like them have taken . . . to live . . . to love . . . and wistfully daydream into the future, imagining other young women who will exchange blushing glances with their one and only . . . then, tenderly smile and turn the ring around, telling the world . . . "This heart belongs only to my one true love."

Read Original Here: Claddagh History, Folklore, and Symbolism http://www.fantasy-ireland.com/claddagh-history.html#ixzz1p4AKK6Ot